| | | |
| --- | --- | --- |
| - | | - |
You will receive the APSX-PIM in a wood crate with a truck delivery. It is about 300 lbs and 50" X 25" X 25" box.
The start up process is very simple: Open the crate, place the APSX-PIM on a desk or stand, plug and start using.
Content of the crate:
APSX-PIM Injection Machine

Tablet PC

Test mold (installed)

2 lbs of PP pellets

APSX INJECTION software (installed)

Kill-A-Watt volt meter
There is an optional stand that can be used with the APSX-PIM. If you also ordered the optional Fume Extractor you will receive them as a separate delivery. 
1 - Open the top of the crate
The machine is mounted to the crate by using two U-bolts. Put the other items aside before you start unscrewing the U-bolt mounting nuts. Remove the Tablet PC box, and PP pellets bag.
APSX-PIM machine is not a light machine. Therefore, have some help for lifting it onto a sturdy desktop or APSX-PIM stand.
Always use the chain hook holes located on the clamp motor and injection motor mount plates. They are designed specifically for lifting. You can use a small size hydraulic lift or a similar tool.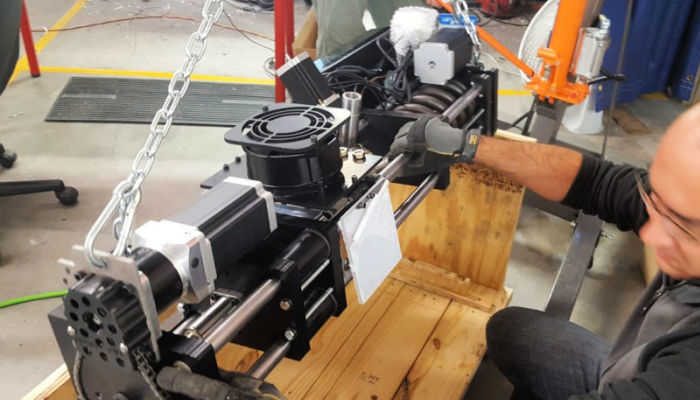 2 - Install the saddles
APSX-PIM comes with two saddles to sit on. You can place them on the desktop or on the stand.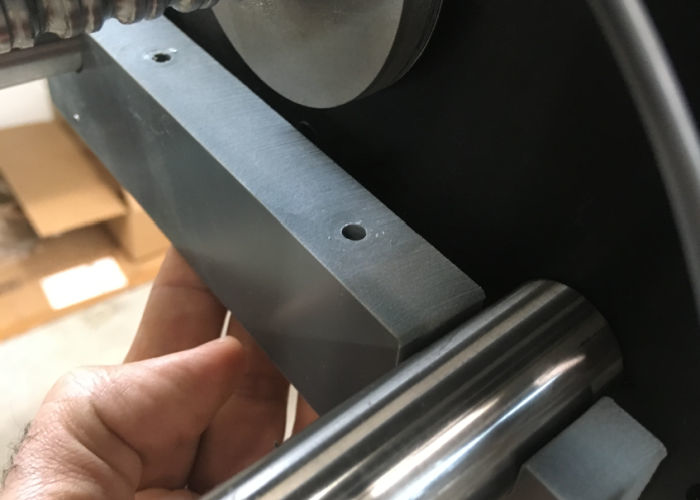 3 - Assemble the Tablet PC
Open the tablet PC box and find the tablet PC and the power adapter. There are two screws to mount on the machine's clamping side.